Chicken Curry
The recipe for Chicken curry has been submitted by my friend, Vanitha Naicker, fondly known as Vani, by friends and family. She is a caring young woman who is charming, and always ready to help.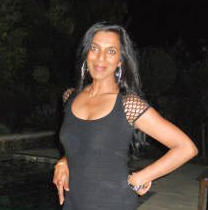 Vani Naicker
She also enjoys the outdoors and has a wonderful sense of humor. Vani loves to cook, among many other interests. She hosts social events for friends and makes delicious meals. She kindly shared a few of her recipes.
Vani prefers to mix her own masala/curry powder. The recipe for spices to be used for chicken curry listed on the right.
Here is Vani's recipe for Chicken Curry
Vani suggests packing together the 3 spices for Masala, for convenient use. All the spices she has used are available at some regular supermarkets. You will be sure to find them at ethnic grocers.
Her salad provides a cool contrast to the spicy chicken. More recipes from Vani will be published soon.
If you have any questions or would like to add a recipe of your own, email me, Nirmala, at
.
I will be happy to help in any way I can. The site will be regularly updated with tasty recipes, hints and tips. You can also reach me at Contact