Useful Gadgets and General Tips January 2010
To access past hints do use the Archive link above.
These handy tips are from family, friends & the media. Most of them have been tried and tested
I will also feature gadgets that I find really useful, that maybe useful to you.
Mouth Wash and Floss
Just before entering the shower, take some mouthwash and swirl it around your mouth while showering, for as long as you can hold it. While you shower you are also freshening your breath.
I find floss to be a very good tongue cleaner as well
Salad Spinner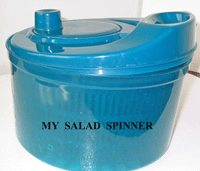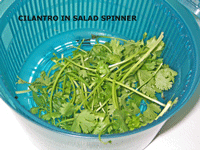 Through the years I just never got around to buying a salad spinner. I recently did, & I find it such a useful tool. It does a wonderful job of getting rid of excess water after one washes salad greens and herbs.
For sandwiches I do also dab the spinach leaves on paper towel, but for salads I use it right off the salad spinner.
From Dr. Oz & my Observations
Eat 3 main meals plus snacks so you're never hungry. Eat the same things for breakfast and lunch almost every day. Yes, Dr. Oz says, every day. People who minimize food choices lose more weight.
This also saves time in wondering what to prepare for sandwiches. For several years when we were school going kids, my mother would cook a delicious potato curry for our sandwiches. Strangely we never got tired of it. Looks like my mother had the right idea.
Talking of snacks, make sure that they are snacks like, fruit, carrot sticks, nuts, grains, olives, yogurt, popcorn without butter or rich toppings.
If you are one of those who are advised to have small meals throughout the day, do check with your doctor as to what is meant by small. This is a vague description and may be misconstrued.
From Men's Health, January/February 2010 & McCann's Products
Hot Cereals
If you enjoy oats, try Steel Cut Oats. You will enjoy more of the oat grain with this type than the regular quick cooking oats. It has a richer flavor and more nutrients.
Steel-Cut Oats are the inner portion of the oat kernel which have been cut into two or three pieces using steel discs. Grains are essential to a healthy lifestyle and form the foundation of the food pyramid. Steel-Cut oats are inherently full of nutritional value and are high in B-Vitamins, calcium, protein and fiber while low in salt and unsaturated fat. One cup of Steel-Cut oatmeal contains more fiber than a bran muffin and twice as much fiber as Cream of Wheat.
Cream of Wheat or Sooji
Sometimes you want a change so do try cream of wheat as well. It does contain Vitamin B and iron. Sooji or Soji as most of us Indian South African know this cereal, enjoy it made with butter, sugar, milk and served with cream. The is okay on occasions, but for everyday breakfast try it without all the rich stuff and consider sweetening it with honey.
---
Now quickly and easily navigate to your next destination.
---