Monthly Tips March 2010
To access the archives for past hints please click on the links above
These handy tips are from family, friends & the media. Most of them have been tried and tested
Pastry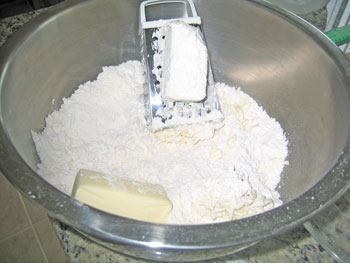 Stick of butter dipped in flour making easier grating
This is my very own tip. When a pastry recipes calls for chopping butter into flour, I find it easy to grate the butter into the flour. It helps if you keep the grater in the fridge so that it is as cold as the butter that you will use from the fridge.
While holding the butter to grate, the fingers tend to soften the butter. To prevent this, dip the stick of butter into the flour. This flour coated butter now has a much better grip & the butter remains cold. See picture.
Heloise Hints
This hint is courtesy of Heloise Hints.
To remove the odors caused by spilled milk or other food, clean the area, then pour vinegar from the bottle, just enough to cover the spot. Wait 15 minutes and blot with a white towel. If the smell has not gone, repeat the process the next day.
Soak musty T-shirts in 1 part vinegar to 2 parts water for 30 minutes, then wash as usual.
To avoid packing a wet toothbrush while traveling, use the hairdryer. In a few seconds the brush is dry.
This is Heloise's tried and tested, money saving tip for cleaning windows.
Mix ½ cup non-sud-sing ammonia, ½ cup rubbing alcohol, & 1 teaspoon dish washing liquid with enough water to make 1 gallon of cleaner. Make sure to label the bottle immediately.
When cleaning windows, use up & down movements on one side and sideways movements on the other side. Any streaks left will be clearly visible.
Having difficulty threading a needle, try using a white piece of paper behind the eye of the needle. It makes it easy says, Ginny Fenlong of Naples, New York.
---
Now quickly and easily navigate to your next destination.
---