How to Understand and Read Nutritional Food Labels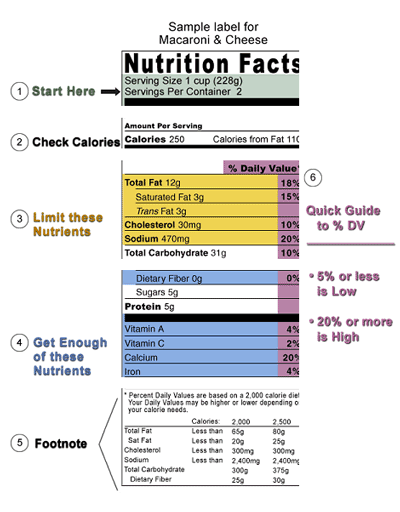 Most times, when shopping, we just pick the items we need and proceed to the check out. But it is useful to take some time to read the labels on products that we purchase. As a vegetarian I have often been deceived by labels.
I have on occasion purchased products like soups, both canned and in packets, only to find a description of the ingredients include items like shrimp, or anchovies, yet the large eye-catching labels describe them as Vegetable Soup or Spring Vegetable Soup.
In the same way, we need to be observant about the calorie content in food we eat, as well as the amount of sugars. We also should be aware of the size of serving portions. If you think you will most likely eat twice the serving size, then be aware that your calorie intake will double as well.
The link below describes how to read food labels so that you can be an informed shopper. If you read the labels, chances are that you will make wiser choices when purchasing for you family. Here is a link to, Nutrition Fact Labels
The Image on the right is from the USDA website. When you open that link that picture will open with explanations on the different segments that are outlined.

---
Now quickly and easily navigate to your next destination.