Karela, also know as Bitter Gourd or Bitter Melon has a strange appearance.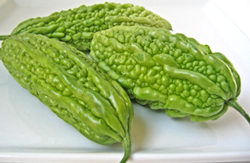 Fresh Karela
It is green, sort of an oval shape with soft ridged spikes on the outside. It's long tendrils gives it a mouse like appearance. There are a few varieties of this vegetable with spikes being sharper or somewhat rounder but the taste appears to be no different. I used to avoid eating this vegetable because it tastes quite bitter & I did not have much success in cooking it well, until I tried Kam's recipe.
Like me, you will most likely enjoy eating this vegetable after you have tried Kam's version of stuffed Karela. It has flavors of cumin, cilantro, garlic and other spices that blend together to mask most of the bitterness while retaining its own unique taste with the slightest hint of bitterness. Eat it with other curries, rice or roti and you will find that the meal is enhanced with this tasty dish.
Kam suggests that one could use the same stuffing with baby brinjals, also known as eggplant or aubergines.
Karela has remarkable health benefits and is used in a number of Asian and European cuisines. Research indicates that this vegetable has an action similar to insulin, helping in glucose metabolism. It is used for treating diabetes mellitus. It is also regarded as a good appetizer as it stimulates the digestive juices. For more information on research on the medical benefits of this vegetable check, RESEARCH.
Kam's version of this dish is delicious and is enjoyed by the family. My late mother, herself an excellent cook enjoyed Kam's Stuffed Karela. Here is the recipe
Use this basic stuffing mix with baby brinjals/eggplants. Wash 4-6 brinjals and cut of green stems. Slice in middle and microwave for about 5 minutes until soft to the touch. When brinjals are cool, scoop out the flesh. Mix the soft eggplant flesh with the stuffing mix. Fill the shells with stuffing mix & sandwich together. Heat oil and fry gently on a medium temperature. Turn, to fry the other side taking care to keep brinjal intact. When eggplant is soft remove from pot. Serve with other curries or with just roti.